Topic category: Other/General

Iraq Veteran Pete Hegseth Exposes Defeat of Defeatists and their State of Denial about Success of the Surge Designed by Petraeus, Ordered by Bush and Implemented by Our Troops.

By Jim Wrenn,
Editor at WrennCom.Com and PoliSat.Com.
January 14, 2008--

Iraq war veteran Pete Hegseth devastatingly exposes the defeat of the defeatists as well as their state of denial about the success of the surge designed by General David Petraeus, ordered by President Bush and implemented courageously and effectively by our troops.  (The entirety of his tour-de-force commentary is here.)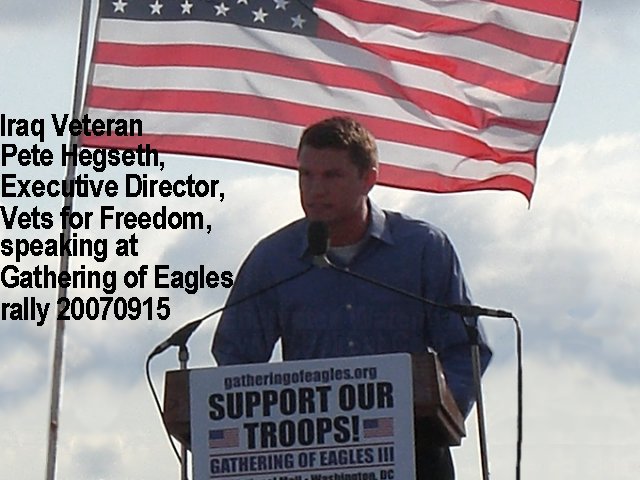 I've met this man and spoken with him at length.  He's quite impressive and knows of what he speaks.  Not only has he courageously served our country in Iraq, but he also showed political courage in accepting the role of leadership of Vets for Freedom.  Recognizing the extent to which American voters have developed such short attention spans, he understood the need for those of us who know our success in Iraq to be a vital step in what will be the long, arduous task of assuring the triumph of liberty over tyranny for the benefit of our posterity to continuously counter the philosophy of defeatism that otherwise will continually take hold (as it did in November, 2006).  When Hegseth's country needed him in Iraq, he was there.  When his country needed him in the "Battle of D.C." over the future of our Iraq strategy in particular and our strategy against fanatical, medieval tyranny generally, he was there combating the defeatist propaganda being spewed by political hate groups such as Code Pink, DailyKos, MoveOn.Org, ANSWER, 9-11 "Truthers," Gorists,  etc. ad naseum., who have earned the title "Axis of Sleazel."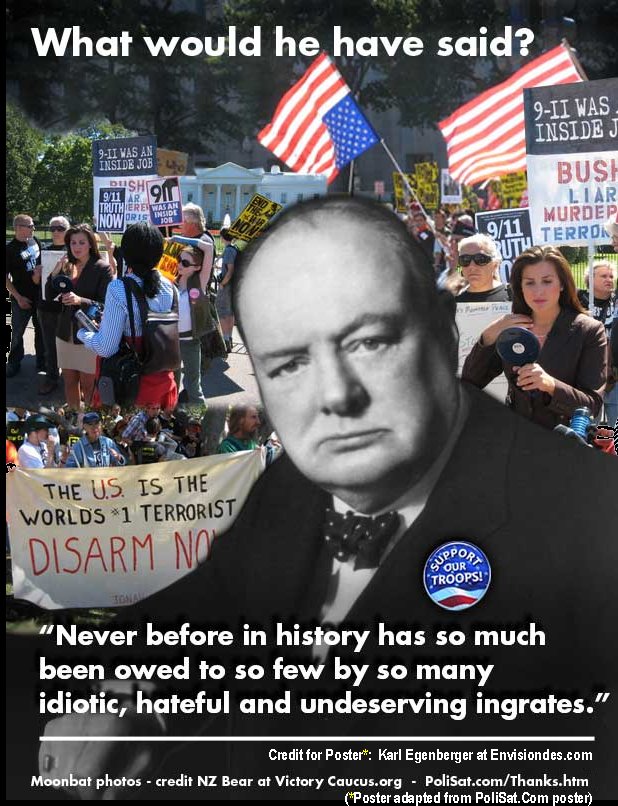 Rather than selectively quoting him, I think it best to urge readers to do two things:  One, read the entirety of his comments; Two, disseminate them as widely as possible.  He's doing far more than his part, so we who support victory rather than defeatism must do ours.  We, like Hegseth, must remember that our efforts to educate American voters on what's at stake requires unrelenting efforts on our part.  
Never again can we afford to make the mistake that many of us made in interpreting the results of Election 2004 as evidence that the American voter "got it."  Such insights pass quickly from the minds of American voters.  To paraphrase Jefferson, "The tree of liberty must be periodically nurtured by torrents of knowledge to combat the withering infestation of defeatism."
Given what appeared to be an ascendancy of American Self-Defeatism little more than a year ago in the wake of the November, 2006, elections, not only do his comments devastatingly expose the politically-self-serving delusions American Self-Defeatists" but they also exude a justified sense of satisfaction warranting a paraphrasing of one of Winston Churchill's famous lines:  "There's no greater exhilaration that being politically shot-at and missed."  However, given what we know about the political attention-span of too many of today's Americans, this exhilaration will prove temporary unless we remember that we must unrelentingly educate the public and unrelentingly battle the propaganda of defeatism.
Another aspect of the process in which the American public re-awakened (in 2007) to the dangers and reality of the struggle we face and not only the catastrophic consequences of defeat but also the immeasurable benefit of victory in the ultimate triumph of liberty over tyranny for our posterity is the country's apparent re-embrace of what had been the World War II generations intuitive understanding of the correct "end-game" strategy in warfare.
To whom do we owe thanks for the exhilaration of witnessing the (at least temporary) "defeat of defeatism"?  The greatest thanks go to those who serve us with such courage, determination and selflessness:  Our troops:
··

http://polisat.com/Images/TION4DION-wmv-SF-273x204-At150k.jpg'); background-repeat: no-repeat; background-attachment: scroll; width: 234; height: 175; background-position: top 50%>


·

To embed a  Tribute to Our Troops video 
go here to find a suitable
size/speed and video-format configuration
for other sites or blogs.·

·(On WebCommentary site, eve if no image appears above, the play button should nevertheless work)·

 

 

··

··

 

··
Is my commentary above "over the top" patriotism?  If so, it's not a tiny fraction as "over the top" as the real-world courage, sacrifice and determination being exhibited in our behalf by our troops.  Such "over the top" patriotism is far superior to the "below the bottom," neo-nihilistic philosophy of the American Self-Defeatists.
--Jim Wrenn, Editor, WrennCom.Com and Editor, PoliSat.Com
Permanent Link to this installment (in addition to permanent link at WebCommentary.Com):
http://wrenncom.com/CommentaryArchives/2008/20y08m01d14-01.asp  .
Jim Wrenn
Political Satire/Commentary at PoliSat.Com (Editor)
Send email feedback to Jim Wrenn
---
Biography - Jim Wrenn
Jim is a proud descendant of 18th Century criminal exiles from England who swam to the Outer Banks when the British ship taking them to a Georgia penal colony sank in a storm near Cape Hatteras. Having the prescience to prevent their descendants from becoming "TarHeels," they immediately migrated to Virginia, where, within just a few generations they worked their way up into poverty. Jim's grandfather was the first in the family tree to see the distant horizons, but his career was cut short by severe injuries he sustained when a cousin cut down the tree.
After a brief stint in the Amry (ours) following graduation from law school, he began his legal career in the state bureaucracy but was never able to break into the federal bureaucracy. Several years later, he entered the private practice of law and co-founded a small law publishing company. Later, finding the publishing of small laws unstimulating and finding his private practice too private to be lucrative, he began writing political satire/commentary. His greatest vice is taking himself too seriously.
He wrote the definitive books on the Clinton Era Error: the Clinton Liebrary Book (pre-October, 2000), which he later updated as the Clinton Liebrary Book 2001 Edition to include Election 2000, the post-election shennanigans, and related events through August, 2001. The 2001 edition is the only known literary source that conclusively shows why Bill Clinton pardoned Susan McDougal but not Webster Hubbel. It also presciently contains the Billary/Hillary Dueling Memoirs. At every opportunity he shamelessly promotes his books for orders on-line or by fax at www.ClintonLiebraryBook.Com. He's also the Librarian at the Clinton Liebrary (www.ClintonLiebrary.Com), which owns exclusive rights to Bill Clinton's most famous speech as well as Bill Clinton's comments after revelation of the identity of Deep Throat in 2005.
As an amateur scientist as well as a scientific amateur, he de-bunks the man-is-causing-Global "Warming" theory, and predicts that by the middle of the 21st Century (when he will be safely dead) physicists will discover the obvious flaws in Einstein's Theory of Relativity, which will lead to vastly-faster-than-light travel through polarization of gravity. As a constitutional-law scholar, he's trying to teach those who hold a static, zero-sum-game view of economic and social theories to understand that "property" is not a "thing" but rather is a human right.
Although he regularly teaches Continuing Legal Education courses to lawyers, he's too-often available through he Rubber Chicken Speakers Bureau to speak on politics, satire, etc., at luncheons, dinners, root canals, funerals, etc. His speaking fees are so outrageously high they border on criminal price-gouging, but as a free-market advocate, he defends his fees on the higher moral ground of charging whatever the traffic will bear. For more information (surely more than one would want or need), go to www.PoliSat.Com.
---
Read other commentaries by Jim Wrenn.
Visit Jim Wrenn's website at Political Satire/Commentary at PoliSat.Com
Copyright © 2008 by Jim Wrenn
All Rights Reserved.