Topic category: Other/General
Lame-duck George Bush delivers swift kick in butt to anti-Iraq-war donkeys Harry Reid and Nancy Pelosi on funding for troops and mission in Iraq.
Victimized by their own self-defeating strategy in the November, 2006, elections (i.e., recruiting a number of non-leftist Democrat candidates to defeat vulnerable Republican incumbents), Harry Reid and Nancy Pelosi succumbed to "lame duck" George Bushs political power (revitalized by increasingly undeniable evidence of success of the "surge" in Iraq) by passing legislation including Iraq-war funding without attaching strings to snatch defeat from the gradually closing jaws of victory.  (More reports about this are here, here and here.)   Is Bush a "lame duck" on steroids or have the donkeys morphed into baby turkeys?   Did politicians catering to the far Left go a bridge too far?  More likely a series of bridges too far.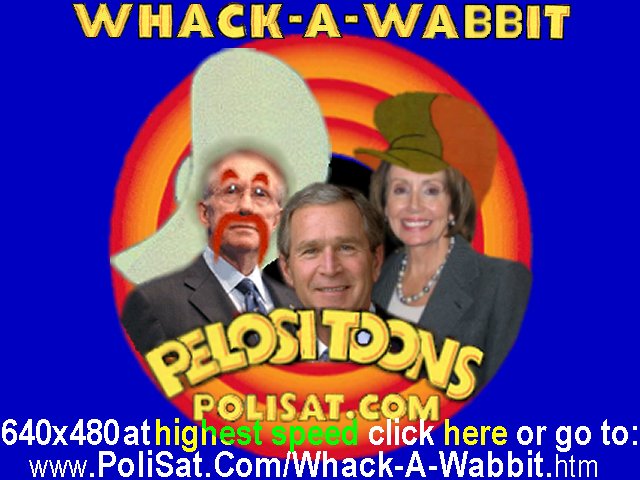 After similarly having failed to attach such strings more than six months ago in the wake of their months-long holding of funding for our troops and their mission hostage to demands of the far Left, they re-doubled their efforts (as do most idealogues) and reprised their legislative hostage-taking tactic last September, which they continued until yesterday.   Rather than proving method in their madness, theyve proven madness in their methods matching the madness of the far Left in both methods and goals.
            To whom do we owe thanks that "lame-duck" Bush proved able to kick the donkeys butt?  We all know who deserves credit for the successes that overpowered the claimed clout of the defeatists.  Successes our troops generated withstood the fanatical, pedal-to-the-metal assault against them and their mission by the propaganda machines of the Hollywood Left.  Also deserving credit are General David Petraeus, Vets for Freedom, and many, many more.
            Is there hope that increasing numbers of Americans misled (in 2006) by the most massive propaganda campaign waged by self-perceived American elitists against American troops and their mission since Vietnam are beginning to catch-on just as they did in the waning weeks of the 2004 election campaign?  Yes, theres hope, but its far, far too soon for those among us who support our troops and their mission to declare "victory" over such propaganda.   
            Realists know our enemy is desperately seeking to launch attacks that such propagandists and their like-minded allies in the so-called "mainstream" media would eagerly equate with the "Tet Offensive" in Vietnam.  We must be ready not to only defeat such "offensive" (as our troops did do in Vietnam) but also to defeat its use as a propaganda tool against our troops and their mission (which our leaders failed to do in the wake of the Tet Offensive).   We know our troops and their mission are worthy of our support.  The question we must ask is whether we will prove to be worthy of them.
--Jim Wrenn, Editor and Washington Bureau Drawer Chief at PoliSat.Com.
Permanent link to this installment: 
[http://polisat.com/DailyPoliticalSatire-Commentary/Archives2007/du20y07m12d20-01.htm]
Jim Wrenn
Political Satire/Commentary at PoliSat.Com (Editor)
Send email feedback to Jim Wrenn
---
Biography - Jim Wrenn
Jim is a proud descendant of 18th Century criminal exiles from England who swam to the Outer Banks when the British ship taking them to a Georgia penal colony sank in a storm near Cape Hatteras. Having the prescience to prevent their descendants from becoming "TarHeels," they immediately migrated to Virginia, where, within just a few generations they worked their way up into poverty. Jim's grandfather was the first in the family tree to see the distant horizons, but his career was cut short by severe injuries he sustained when a cousin cut down the tree.
After a brief stint in the Amry (ours) following graduation from law school, he began his legal career in the state bureaucracy but was never able to break into the federal bureaucracy. Several years later, he entered the private practice of law and co-founded a small law publishing company. Later, finding the publishing of small laws unstimulating and finding his private practice too private to be lucrative, he began writing political satire/commentary. His greatest vice is taking himself too seriously.
He wrote the definitive books on the Clinton Era Error: the Clinton Liebrary Book (pre-October, 2000), which he later updated as the Clinton Liebrary Book 2001 Edition to include Election 2000, the post-election shennanigans, and related events through August, 2001. The 2001 edition is the only known literary source that conclusively shows why Bill Clinton pardoned Susan McDougal but not Webster Hubbel. It also presciently contains the Billary/Hillary Dueling Memoirs. At every opportunity he shamelessly promotes his books for orders on-line or by fax at www.ClintonLiebraryBook.Com. He's also the Librarian at the Clinton Liebrary (www.ClintonLiebrary.Com), which owns exclusive rights to Bill Clinton's most famous speech as well as Bill Clinton's comments after revelation of the identity of Deep Throat in 2005.
As an amateur scientist as well as a scientific amateur, he de-bunks the man-is-causing-Global "Warming" theory, and predicts that by the middle of the 21st Century (when he will be safely dead) physicists will discover the obvious flaws in Einstein's Theory of Relativity, which will lead to vastly-faster-than-light travel through polarization of gravity. As a constitutional-law scholar, he's trying to teach those who hold a static, zero-sum-game view of economic and social theories to understand that "property" is not a "thing" but rather is a human right.
Although he regularly teaches Continuing Legal Education courses to lawyers, he's too-often available through he Rubber Chicken Speakers Bureau to speak on politics, satire, etc., at luncheons, dinners, root canals, funerals, etc. His speaking fees are so outrageously high they border on criminal price-gouging, but as a free-market advocate, he defends his fees on the higher moral ground of charging whatever the traffic will bear. For more information (surely more than one would want or need), go to www.PoliSat.Com.
---
Read other commentaries by Jim Wrenn.
Visit Jim Wrenn's website at Political Satire/Commentary at PoliSat.Com
Copyright © 2007 by Jim Wrenn
All Rights Reserved.