Topic category: Other/General
Tropical Storm Fay and Computer Models
Climate models are far less accurate than weather models, and weather models can be very, very wrong!
Model Predictions for TS Fay:
Florida has just experienced its first landfall tropical storm of the season (Tropical Storm Fay). Models used to forecast the track of these storms had been fairly unanimous through Monday, August 18, with a consensus showing the storm would track up the west coast of Florida and make landfall somewhere north of Sarasota, south of Tampa Bay. While the landfall location varied, with some calling for earlier or later landfall, the model consensus was fairly close to individual forecast tracks.
As time marched on and Fay crossed over the Keys, the predictions of where landfall would occur began to shift a little to the south with some models forecasting a turn to the east, but with the consensus still expecting a track up the west coast.
The model consensus also predicted Fay would reach minimal hurricane intensity prior to landfall.
NWS TPC/NATIONAL HURRICANE CENTER MIAMI FL AL062008200 AM EDT TUE AUG 19 2008
...
A HURRICANE WARNING IS IN EFFECT FOR THE SOUTHWESTERN COAST OF
FLORIDA FROM FLAMINGO TO ANNA MARIA ISLAND. A HURRICANE WARNING
MEANS THAT HURRICANE CONDITIONS ARE EXPECTED WITHIN THE WARNING
AREA WITHIN THE NEXT 24 HOURS. PREPARATIONS TO PROTECT LIFE AND
PROPERTY SHOULD HAVE ALREADY BEEN COMPLETED.
...
AT 200 AM EDT...0600Z...THE CENTER OF TROPICAL STORM FAY WAS
LOCATED NEAR LATITUDE 25.5 NORTH...LONGITUDE 81.8 WEST OR ABOUT 45
MILES...70 KM...SOUTH OF NAPLES FLORIDA.

FAY IS MOVING TOWARD THE NORTH NEAR 7 MPH...12 KM/HR. A MOTION JUST
EAST OF DUE NORTH IS EXPECTED PRIOR TO LANDFALL...WITH A
NORTH-NORTHEASTWARD MOTION EXPECTED OVER THE NEXT DAY OR TWO.
ON THIS TRACK THE CENTER WILL REACH THE COAST OF SOUTHWEST FLORIDA
LATER THIS MORNING AND CONTINUE INLAND OVER CENTRAL FLORIDA TODAY
AND TONIGHT.

MAXIMUM SUSTAINED WINDS ARE NEAR 60 MPH...95 KM/HR...WITH HIGHER
GUSTS. FAY COULD STILL APPROACH HURRICANE STRENGTH PRIOR TO
LANDFALL. WEAKENING IS LIKELY WHILE FAY MOVES OVER THE FLORIDA
PENINSULA.

What TS Fay really did:
A few observations: (1) Fay never reached hurricane strength, and, (2) after making landfall, Fay continued to boggle the simulations. Instead of tracking to the northeast and re-emerging over the Atlantic near Daytona Beach, Fay meandered generally in an east-northeastern direction to a point just west of Lake Okeechobee where it stalled for several hours. Then, completely unpredicted, Fay strengthened over land!
T 1500Z THE CENTER OF TROPICAL STORM FAY WAS LOCATED NEAR LATITUDE
26.7 NORTH...LONGITUDE 81.3 WEST WITH MAXIMUM SUSTAINED WINDS NEAR
50 KTS...60 MPH...95 KM/HR.
...
AT 2100Z THE CENTER OF TROPICAL STORM FAY WAS LOCATED NEAR LATITUDE
27.3 NORTH...LONGITUDE 81.0 WEST WITH MAXIMUM SUSTAINED WINDS NEAR
55 KTS...65 MPH...100 KM/HR.

Tuesday evening Fay continued to meander toward the ENE, then stall, then meander again, and finally began to turn to the north east, cutting across Indian River County and up through eastern Brevard County to a point over or slightly north of Melbourne, FL. Fay then stalled again and as of this writing (0830 EDT) there is little movement of Fay, though sustained winds have decreased to about 50 mph.
Simulation models try to predict the future of Tropical Storm Fay -- Wednesday morning -- (from http://www.boatus.com/hurricanes/hurricane_spaghetti.asp at 07:46:49 EDT on 8/20):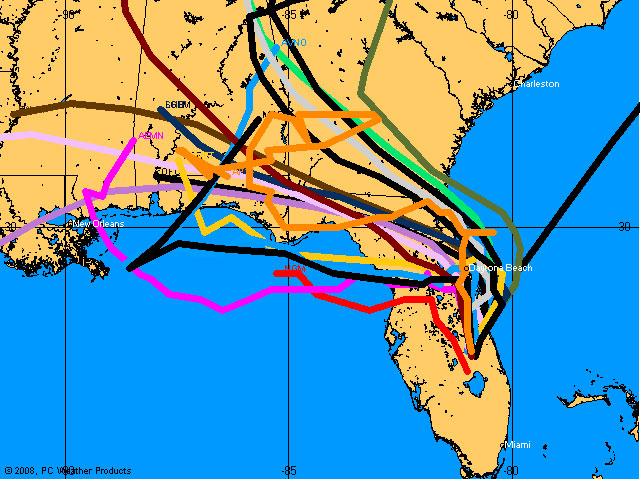 For a description of the models producing the predicted tracks (above), see: http://www.nhc.noaa.gov/modelsummary.shtml

Perhaps the first thing you notice from the various model storm tracks above is that none of them originate where they had predicted the storm would be on Wednesday morning (August 20, 2008). That's because the models were incorrect and the consensus was very much incorrect. Landfall came just below Naples, Florida, well south of the forecast landfall and Fay remained a modest tropical storm, failing to reach hurricane strength before landfall, as predicted. After meandering northeast, then stalling, then moving east, then stalling again, then meandering generally east-northeast, then stalling, then finally slowly moving northeast to Melbourne, FL where it has essentially stalled again.

TROPICAL STORM FAY DISCUSSION NUMBER 19
NWS TPC/NATIONAL HURRICANE CENTER MIAMI FL AL062008
500 AM EDT WED AUG 20 2008
...
TROPICAL STORM FAY HAS TURNED SLOWLY NORTHWARD AFTER FINALLY
REACHING THE EAST-CENTRAL FLORIDA COAST EARLY THIS MORNING.
HOWEVER...THE CENTER REMAINS JUST INLAND ALONG THE COAST NORTH OF
MELBOURNE FLORIDA AND MAY NOT EMERGE OVER THE ATLANTIC OCEAN UNTIL
THIS AFTERNOON WHEN FAY IS EXPECTED TO MOVE NORTH OF THE CAPE
CANAVERAL AREA. MOST OF THE GLOBAL MODELS ARE NOW INDICATING A
TIGHTER TURN TO THE NORTHWEST AND THEN A SHARPER WESTWARD JOG
ACROSS NORTH FLORIDA AFTER 36 HOURS AND INTO THE NORTHEASTERN GULF
OF MEXICO BY 72 HOURS. THE GFDL AND HWRF MODELS ARE EXCEPTIONS TO
THIS SCENARIO AND KEEP FAY MOVING NORTHWESTWARD ACROSS GEORGIA AND
ALABAMA...BUT EVEN THOSE MODELS ARE NO LONGER TAKING FAY EAST OF
80W LONGITUDE.


The actual position of Fay at 0822 EDT on August 20: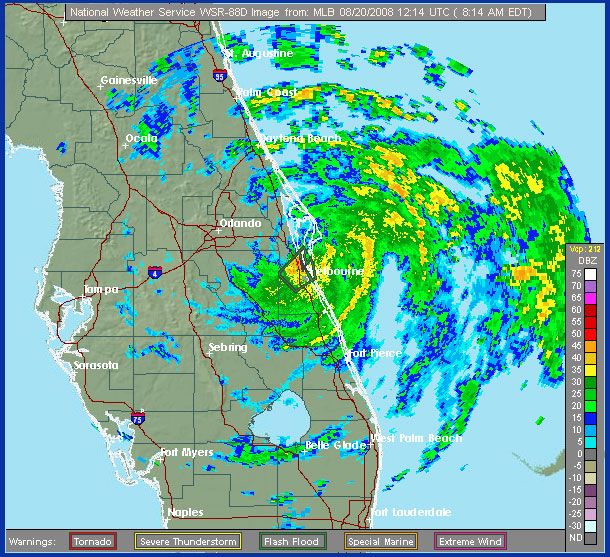 At one point late Tuesday, forecasters had expected Fay to emerge off the east coast of Florida and develop into a hurricane before curving west and making landfall (again) just south of Jacksonville, FL as a category 1 hurricane. Evidently, this is not the expectation today since Fay appears to be determined to hug the coast (if it ever does emerge into the Atlantic again).
Models are just models
The point here is to illustrate that we the public (and politicians) are at great risk when they begin to believe computer simulation model predictions as if models were absolute reflections of real weather and climate processes.
It is generally conceded that weather simulations are far better at making accurate predictions than are climate models. For one, more information is available to weather simulation models so they can better deal with current weather and their predictions are confined to a much smaller area than with global climate prediction models. Nevertheless, we are constantly reminded that computer simulation models are far from accurate and this tends to be more true with predictions relating to significant storms (tropical storms, hurricanes, blizzards, nor'easters, etc.) that have the potential to impact more people and cause substantial damage.
Though related in many aspects, climate models are far less robust than weather models. One of the biggest complaints about climate models is their failure to adequately address key components of climate (e.g., solar effects beyond radiance, cloud formation, precipitation) and their reliance on speculative assumptions for climate forcing equations (i.e., the feedback effects of one element on another that may multiply the apparent impact on climate). Climate modelers for the IPCC models have assumed a speculated climate feedback relationship between increased atmospheric carbon dioxide and water vapor. Water vapor, the massively dominant heat retention (greenhouse) gas, would be expected to increase with slight warming from sufficient additional atmospheric carbon dioxide (warmer air can hold more water vapor). This relationship led climate modelers to assume a nearly three-to-one additional warming effect from increased water vapor due to increased carbon dioxide. As Lord Monckton demonstrated with his paper Climate Sensitivity Reconsidered, the feedback relationship used by the IPCC (3 to 1) vastly overstates the actual likely feedback. In fact the feedback is so small and the processes so poorly understood, that the cooling effects of precipitation and lessened tropical cirrus cloud frequency/coverage might actually lead to a negative feedback (i.e., cooler temperatures that regulate primary warming from increases in carbon dioxide!). This process was suggested by Dr. Richard S. Lindzen (the "iris effect") several years ago and described by Dr. Roy W. Spencer in Climate Confusion. Recent research and observation support the likelihood of negative feedback. Yet the IPCC and AGW believers continue to hold to the 3 to 1 warming feedback assumption!
So we have flawed climate models being used by the IPCC to "prove" their initial contention (that human emissions of carbon dioxide are causing significant global warming with potentially catastrophic consequences). Yet we cannot even develop a weather simulation model that gives us an accurate storm forecast for the next 12 hours!
Would you put much stock in a theory (anthropogenic global warming, AGW) that observations have refuted? Would you put much faith in a theory (AGW) backed only by speculative assumptions driving incomplete climate models that produce questionable trends designed to support the belief of those performing the simulations?
Those who would actually still adhere to a belief in human-caused climate change (the AGW theory) ought to consider joining the Church of Global Warming ... because their belief is purely faith-based and completely contradicted by real-world observations (cooling poles, absent "greenhouse warming fingerprint" in tropical mid-troposphere, global temperature stabilization since 1998 with sharp decline in global temperatures since 2006, and growing polar ice extent, mountain snowpack increases in both northern and southern hemispheres, just to name a few).
Bob Webster
WEBCommentary (Editor, Publisher)
Send email feedback to Bob Webster
---
Biography - Bob Webster
Bob Webster, a 12th-generation descendent of both the Darte family (Connecticut, 1630s) and the Webster family (Massachusetts, 1630s) is a descendant of Daniel Webster's father, Revolutionary War patriot Ebenezer Webster, who served with General Washington. Bob has always had a strong interest in early American history, our Constitution, U.S. politics, and law. Politically he is a constitutional republican with objectivist and libertarian roots. He has faith in the ultimate triumph of truth and reason over deception and emotion. He is a strong believer in our Constitution as written and views the abandonment of constitutional restraint by the regressive Progressive movement as a great danger to our Republic. His favorite novel is Atlas Shrugged by Ayn Rand and believes it should be required reading for all high school students so they can appreciate the cost of tolerating the growth of unconstitutional crushingly powerful central government. He strongly believes, as our Constitution enshrines, that the interests of the individual should be held superior to the interests of the state.
A lifelong interest in meteorology and climatology spurred his strong interest in science. Bob earned his degree in Mathematics at Virginia Tech, graduating in 1964.
---
Read other commentaries by Bob Webster.
Visit Bob Webster's website at WEBCommentary
Copyright © 2008 by Bob Webster
All Rights Reserved.