Topic category: Looney Left
"When did the Fourth Estate become the Fifth Column?"
What is the "Fourth Estate?" In current use the term is applied to the Press,[2] with the earliest use in this sense described by Thomas Carlyle in his book On Heroes and Hero Worship: Burke said there were Three Estates in Parliament; but, in the Reporters' Gallery yonder, there sat a Fourth Estate more important far than they all.[3]
What is the "Fifth Column?" A fifth column is a group of people who clandestinely undermine a larger group, such as a nation, from within. A fifth column can be a group of secret sympathizers of an enemy that are involved in sabotage within military defense lines, or a country's borders.[1] A key tactic of the fifth column is the secret introduction of supporters into the whole fabric of the entity under attack.[2] This clandestine infiltration is especially effective with positions concerning national policy and defense.[2] From influential positions like these, fifth column tactics can be effectively utilized, from stoking fears through misinformation campaigns, to traditional techniques like espionage.[2] (Sources: Wikipedia with links to other sites.)
Now, the question is; "When did the Fourth Estate become the Fifth Column?
Actually, it's hard to blame the media for being covert. George Soros with his hand in writing Obamacare and funding a myriad of anti-American and anti-Christian front groups might be called covert. The only thing covert about the media is their process of creating straw dogs among patriots and Republicans to use to undermine the electoral process and that of righteous governing.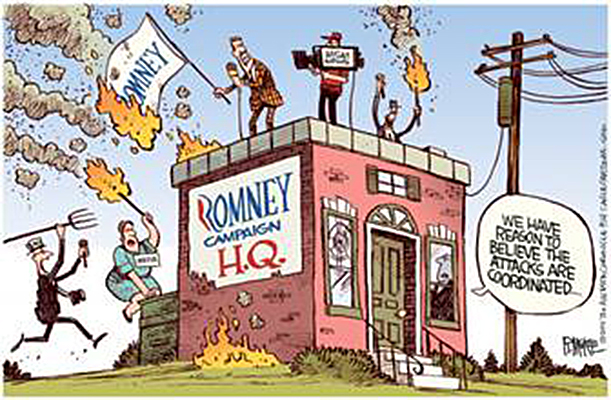 We have watched Barack Obama's deep sympathies with caliphate-yearning Islamists – even to the point of expending our military assets and American blood in support of the new caliphate; his wife's eagerness to legalize partial birth abortion (infanticide); his war on the Church; his wasting taxpayer money on myriad trips, living like an Arab sheik; funding cronies on misguided and universally failed energy projects; making the blatant lie a matter of domestic policy, ad infinitum, ad nauseum.
Who can forget the MSM's extended fascination with Cindy Sheehan, Valerie Plaime, Sandra Fluke, the abortion clinic shooter, Watergate, making weeks' long issues out of events and people who have little or no consequence except to divert attention from or support "progressive" skullduggery? Yet they have little real interest in Obama plunging us into bankruptcy, one world government and destruction of our freedoms and middle class where MSM advertising revenue comes from.
During World War II, if a member of the Fifth Column was caught, they'd be summarily shot or imprisoned. Today they are lauded as heroes and enriched. Every once in a while a pundit with a conscience pops up – often to get his/her professional head lopped off. It must get better. Would a serious restructuring of schools of journalism be worth the effort? Perhaps creating core courses in the Declaration of Independence, the Constitution (which would require a working knowledge of Judeo-Christian values) and the elements of free enterprise would be helpful. This can also be extended to the entire education system... applied locally, with the government getting the hell out of the way.
Gerald V. Todd
Send email feedback to Gerald V. Todd
---
Biography - Gerald V. Todd
Jerry is a retired engineer with strong experience in environmental innovation which he still applies today with 2 clean water and energy saving technologies. His life avocation in writing and study of philosophical and biblical themes as they apply to the body politic's spiritual warfare. He survived stage 4 Non-Hodgkin's Lymphoma in 2006; now in excellent health. A graduate of the University of Illinois (1958, Industrial Engineering), Jerry had post graduate studies at both the University of San Francisco and the University of Santa Clara in California between 1961 and 1963 (Logic, Marketing). As co Founder and seminar presenter he was awarded a Ph.D. in Philosophy at Valley Christian University operating under California private-post secondary statutes for mid career student, VCU was the pioneer external degree school for mid career students. Its course structures were picked up by several well known Christian colleges. Hosted local broadcast radio and TV shows, "Religion on the Line" and "The News Firm" (jointly with wife, Joanne), respectively. Jerry has published several books that are available at Amazon. Jerry is available to speak as a visiting lecturer at the high school, college or community organization level. Jerry is married 55 years to Joanne Dean Todd – 3 children, 8 grandchildren.
---
Read other commentaries by Gerald V. Todd.
Copyright © 2012 by Gerald V. Todd
All Rights Reserved.